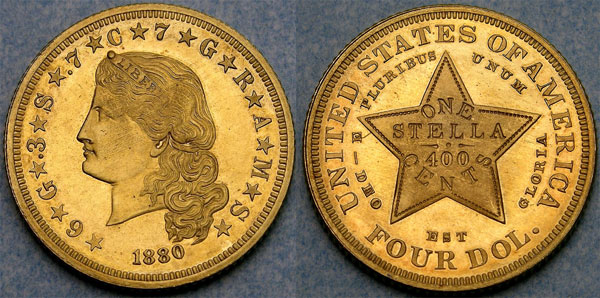 While the previous year was struck in relatively large quantity to demonstrate the potential denomination, the 1880 Flowing Hair Stella (Buy on eBay) saw extremely limited production primarily for the purpose of sales to collectors. The obverse once again carried Charles Barber's flowing hair design, with the same reverse dies used as the prior year strikings. Most of the surviving examples are in higher grades, indicating that they were carefully preserved after striking. This confirms the theory that these were solely produced for sale to collectors.
It has been estimated that around 25 examples of the issue were originally struck in gold, from which perhaps 20 survivors are known. Strikings were also produced in copper in aluminum in smaller numbers. Although this issue has similar rarity to the coiled hair variety of the same year, it consistently brings lower prices at auction due to lesser demand from collectors.
The record price for this issue was realized for a superlative example graded NGC PR 67 with the Star Designation, which realized $959,400. This example was sold as part of the Tacasyl Collection of US Proof Gold Coins auctioned by Bonham's in September 2013.