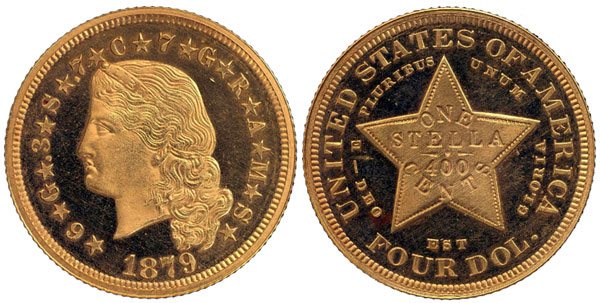 The 1879 Flowing Hair Stella (Buy on eBay) was the initial pattern produced for the proposed international trade coin. The obverse design featuring an image of Liberty with flowing hair was created by Charles Barber. This issue represents the most available and relatively affordable amongst the four different gold varieties.
Approximately 425 examples of the coin were originally struck for distribution to members of Congress in order to review the proposed coinage. Additional examples of the coin are believed to have also been struck at a later date and sold to collectors. In addition to the examples struck in gold, copper and aluminum pieces exist as well, both rare, and a unique white metal piece last auctioned in the early 1990s.
An example of this issue graded NGC PF 67 and believed to be the finest known, sold for $402,500 at auction in August 2006.