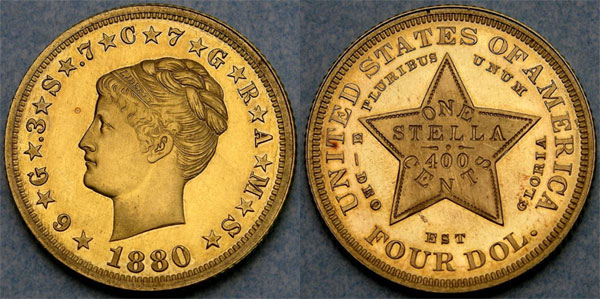 The 1880 Coiled Hair Stella (Buy on eBay) represents the most desirable of the four different varieties produced, as well as one of the most desirable issues within all of United States coinage. It features the obverse design by George T. Morgan depicting Liberty facing left with coiled hair. The reverse design containing the five pointed star is the same used in common across all issues.
It has been estimated that approximately 15 examples of the coin were originally produced in gold, from which there are just 10 known survivors. Copper and aluminum strikings are also known to exist.
As the rarest and most desirable of all Gold Stellas, auction appearances are infrequent and generate considerable excitement with collectors. An example graded NGC PF 67 with a CAC verification sticker recently sold at auction in April 2015 for $1,821,250. The auction record for the issue is held by an example graded NGC PF 67 with the Cameo designation from the Tacasyl Collection of US Proof Gold Coins, which sold for a staggering $2,570,000 in September 2013.